Down Quilts - Down Comforters
By Danish Eiderdowns
---
Natural , Warm and Green
Warmth Without Weight

Australian Accredited Member to The International Down And Feather Bureau (EST Paris 1953).
All German , Hungarian and Polish origin downs are processed by International Down & Feather Bureau Members.
Varies brands ( Incl Feather Factory ) quality products produced by Danish Eiderdowns are available from retailers & online.
Our cleaning and rejuvenation service is available Australia wide ( Click Here ).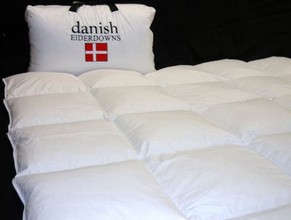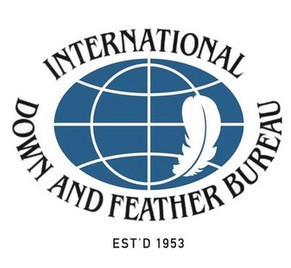 Royal familys of Europe have been using down quilts, down duvets and down comforters for generations.
We offer you our familys generation of down quilts and feather quilts experience in the Royal comfort of Danish Eiderdowns.
Warmth without weight Quilts, Duvets & Comforters.


Your Guarantee Of Quality
Down Quilt Selections-

Regular inspection visits to suppliers worldwide for down selection NON CHINESE.
Enviromental Protection - Innovative updated automatic down processing system by suppliers allowing for the use of organic detergent washing.

Australian Government Inspection Service Approval and clearance - AQIS
All fillings are free from any impuraties that can be experienced in some down products.
Down Blends and Standards

Blends from 100% feather to 100% Down are available to International Down and Feather specifications :
Our Down selections are tested by IDFB's ( International Down Feather Bureau ) certified member IDFL ( International Down & Feather Testing Laboratory Europe , USA)
All Downs are processed by International Down & Feather Bureau Members.

Hungarian Goose Down Origin
European Goose Down Origin
Polish Goose Down Origin

Down products manufactured at our Melbourne ( Australia ) factory for following world markets -
USA , Europe , Middle East , Japan and Great Britan.

Down percentage , fill weight and fill power are the most respected and commonly used down & feather standards world wide.

Europe Fill Power Update - EN12130:2018
Major change is that 30g of material is used in line with other International standards to measure fill power.
Old European standards are still valid EN12130:1998

100% Down - Some countries permit 100% Down labelling on products as there is a label tolerance allowed.
Tog rating as used in Great Britain is a warmth rating only. It does not relate to down quality.
Tog rating should display authentic BS4745-1990 label on product.


---
Downproof Selections
from the worlds leading fabric houses -


From Europes finest fabric houses we have


1. Royal Batiste - ( 5 Star )

' Warmth without weight ' downproof results in the ultimate comfort
TC 362 yarn / inch2

Piped Cassette Boxed European White Casing
Warmth Without Weight Downproof
Click Here European Quality Down Quilts


2.Plain Weave Lightweight Quality - 100% Cotton

This ' Warmth Without Weight ' downproof is highly recommended for dimple stitch style quilts / duvets.
Filled with the finest goose down results in a true Scandinavian experience quilt / duvet.

Ring / Dimple Stitch Style " The Scandinavian"
Double Hemmed Fully Adjustable Style
Click Here European Quality Down Quilts


3. Sateen- Deluxe -

This supersoft 100% white patterned cotton downproof use for Hungarian Goose Down Origin filling for extra warmth and comfort.
Authentic Danish Eiderdowns quality label
Beware of Imitations (made in China) ,
National brands

Double Hemmed Walled Cassetted Boxed Adjustment Restrictions
Click Here The Hungarian - Goose Down Quilts


4. Japara 100% Cotton

One of the most common downproof fabric used worldwide.
Piped and/or double hemmed perimeter gives durability and long life to quilts and duvets.

Double Hemmed Walled Cassette Boxed Style Casing.
Walled & Channelled All Seasons Adjustable Casing.
Click Here Goose Down Quilts



Down Quilt Products feature -

Hypo Allergenic treatment
Authentic Brand Label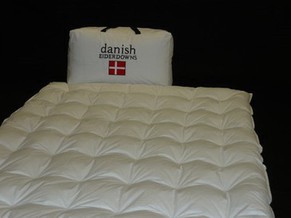 The World's Best Down Quilts
Are Also
The World's Lightest Down Quilts ?
Warmth Without Weight
Example - 4 Warmth Blankets
Standard

* Goose Down 85%
Japara Downproof
Total Weight = 2600gms



Warmth Without Weight

* European Goose Down 95%
Royal Batiste Downproof
Total Weight = 1280gms


Buy now online or in store
Australia
New Zealand
USA
Scandinavia
Europe
& Other Countries