Down Quilts
By Danish Eiderdowns
---
Natural , Warm and Green
Warmth Without Weight

Australian Accredited Member to The International Down And Feather Bureau (EST Paris 1953).
All German , Hungarian and Polish origin downs are processed by International Down & Feather Bureau Members.
Varies brands ( Incl Feather Factory ) quality products produced by Danish Eiderdowns are available from retailers & online.
Our cleaning and rejuvenation service is available Australia wide ( Click Here ).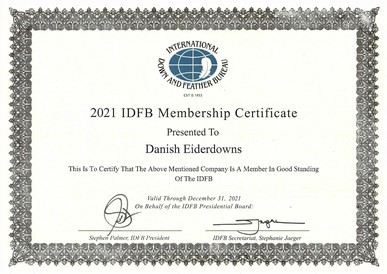 Pure Goose Quilts - Quality Goose Down


All goose down - including Hungarian origin and Polish origin downs are processed to JIS (Japanese Industrial Standards), EN (European Standards),
USA 2000 Standards or Australian Standards to retailers & consumers requirements.

White Goose Down - Down Duvet - Luxury Down Quilts - Down Comforters


Royal Batiste 220 Downproof

Made with a 362 tread count
100% long staple cotton imported from Germany for Danish Eiderdowns quilts.


95% Goose Down Cluster

Our specially selected down is un-surpassed.
This 95% down cluster has a phenominal density and insulates at an amazing 800 + fill power.
The warmth generated from this weightlessness quality down is an amazing sensation
when experienced in a Danish Eiderdown duvet / quilt.


Warmth without weight product

Authentic Danish Eiderdowns quality label
( Beware Of Imitations )
Australian Member To The International Down And Feather Bureau
Hypo allergenic
Cassette ( walled / boxed) style - popular with hotels. Allows for restricted movement for best loft and rejuvenation care.
This is not a quilted item - each box is not sealed off.
Warmth level ( Winter , Spring , Summer , Autumn )


The World's Best Down Quilts
Are Also
The World's Lightest Down Quilts ?
Warmth Without Weight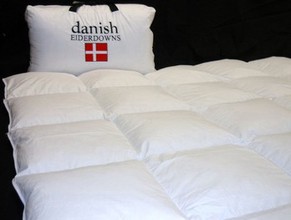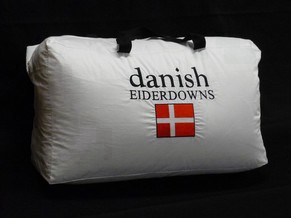 Buy now online or in store
Australia
New Zealand
USA
Scandinavia
& Other Countries