Sofa Cushions
Feather Wraps
Cushion Inserts
By Danish Eiderdowns
---
Covid 19 Impact Update

In accordance with the Victorian Government Stage 4 Stay At Home Restrictions we are not able to manufacture products during this lockdown.
Most stocked products are available from retailers working online for the purpose of fullfilling online orders as per Victorian Government Regulations.
Our rejuvenation & cleaning service is not available during the victorian stage 4 lockdown.

We thank you for your understanding and support during this time.


Sofa Cushions , Couch Cushions , Sofa Cushion Inserts ,
Feather Wraps and Furniture Cushions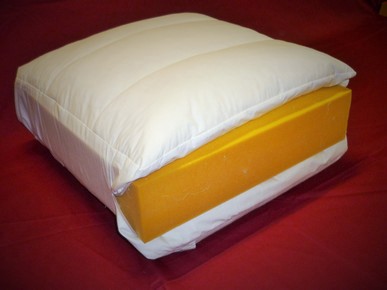 New Sofa / Furniture Cushions and
Remake / Top Up / Rejuvenate Sofa Cushions service available
Sofa Cushions to suit all types of furniture , Austratian made.
All sofa cushions and feather cushion inserts are made for correct fitting to sofa cushion covers.
All sofa cushions are made in Australia to order from imported materials.
Fill Options :
Soft - Medium - Firm
Sofa Cushion Filling Selections are :
Feather Cushions
Feather Down Cushions
Down Cushions
Sofa Cushion Wraps
Ultimate Sofa Cushion Format
Single or Double feather surround and a foam core for ultimate comfort and support.
Materials
Downproof fabric -100% cotton 133x100 40/40 quality.
All feather & down fillings have full quality clearance from Australian Goverment Inspection Service ( AQIS ).
Down Blends and Standards
Blends from 100% feather to 100% Down are available to International Down and Feather specifications.
Our Down selections are tested by
IDFB's
( International Down Feather Bureau )
certified member
IDFL
( International Down & Feather Testing Laboratory Europe , USA. )