Feather Cushions
&
Down Cushions
By Danish Eiderdowns
---
Covid 19 Impact Update

In accordance with the Victorian Government Stage 4 Stay At Home Restrictions we are not able to manufacture products during this lockdown.
Most stocked products are available from retailers working online for the purpose of fullfilling online orders as per Victorian Government Regulations.
Our rejuvenation & cleaning service is not available during the victorian stage 4 lockdown.

We thank you for your understanding and support during this time.


Feather Scatter Cushions
Down Cushion Inserts
Cushion Inners
Feather Cushion Pillows
Feather Filled Cushions
Down Filled Cushions
Feather Scatter Cushions , Down Cushion Inserts
Made to suit all cushion insert sizes , Melbourne, Australia.
Feather Cushion Inserts , Feather Down Cushion Inserts & Down Cushion Inserts



Down Blends & Standards

Our Down selections are tested by IDFB's ( International Down Feather Bureau )
certified member IDFL ( International Down & Feather Testing Laboratory Europe )

All down - including Hungarian origin and Polish origin downs are processed to JIS (Japanese Industrial Standards), EN (European Standards),
USA 2000 Standards or Australian Standards to retailers & consumers requirements.


Feather Filled Cushion Inserts Selections are :

Duck Filling :
Duck Feather Cushion Inserts
Duck Feather Down Cushion Inserts
Duck Down Cushion Inserts

Online Sales Click Here



Feather Goose Down Filled Cushion Inserts :

Goose Feather Cushion Inserts
Goose Feather Down Cushion Inserts
Goose Down Cushion Inserts


Online Sales Click Here


Feather Cushion Insert Sizes ( Most popular )

To fit the following cover sizes-
40 x 40 cm feather down inserts / cushions
45 x 45 cm feather down inserts / cushions
50 x 50 cm feather down inserts / cushions
55 x 55 cm feather down inserts / cushions
60 x 60 cm feather down inserts / cushions

Made to order sizes are also available
Australian made cushions



All Australian made Feather Down Scatter cushion Inserts Feature -

Hypo Allergenic treatment cushion inserts
Oeko - Tex 100 Ecologically Safe guarantee textile labelled scatter cushions
Authentic Danish Eiderdowns quality label
100% Cotton Downproof fabric
Australian Government Inspection Service ( AQIS ) full quality clearance on all down and feather fillings.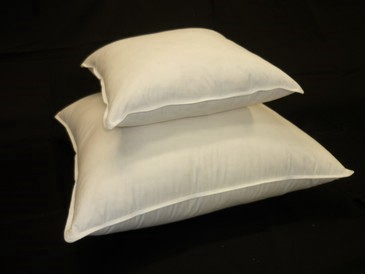 Australia
Buy now online or in store at