Down Quilts - Down Quilt Cleaning
Quilt Rejuvenation
Down Pillow Cleaning
Feather Pillow Cleaning
---

Australian Accredited Member to The International Down And Feather Bureau (EST Paris 1953).
All German , Hungarian and Polish origin downs are processed by International Down & Feather Bureau Members.
Products available from retailers & online.
Our cleaning and rejuvenation service is available Australia wide.




Your Guarantee Of Quality

Our 49 years experience in down and feather quilt cleaning and quilt rejuvention in Australia assures
all our clients of a good, healthy nights sleep.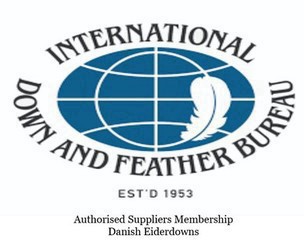 Down Quilt Cleaning & Feather Quilt Cleaning
Price list
Choose From 3 Services

1. Quilt Cleaning , Refresh & Loft Service

A "Complete" clean of your filling and washing of your casing to be refreshed for another 12 months.
Single , Double , Queen , King , Super King
$ 105



---
2. Standard Down Quilt Cleaning

A "Complete" cleaning of your filling once removed and then the casing with an additional top up of new down / feather filling and if required a new japara casing in a walled / channelled or cassette boxed style. Note: For casing style or quilt size changes price available upon inspection.


Down Quilt Cleaning Prices with Top Up


Top Up 300grams
S.B- $124 D.B- $137 Q.B- $144 K.B- $152 S.K- $166


Down Quilt Cleaning Prices with Top Up & New Japara Cover

Walled/Channelled Style - Top Up 300grams
S.B- $163 D.B- $199 Q.B- $213 K.B- $227 S.K- $270
Or
Cassette Boxed Style - Top Up 300grams
S.B- $194 D.B- $211 Q.B- $235 K.B- $278 S.K- $315



---
3. Deluxe Down Quilt Rejuvenation

Down Quilt Rejuvenation: The "Original " service with a full filling treatment where your feather/down is removed
washed, dried, lofted and sorted if necessary. We then top up your quilt with extra filling bringing it back to it's original
warmth/ loft then re-filled back into your cover. Our cover treatment involves your 100% cotton downproof fabric cover being cold washed ( to prevent shrinkage ) with a mild detergent to allow the feather/down to loft once re-filled back into cover.
The option of a new japara cover is also available in either a walled/ channelled or cassette boxed style.
Note: For casing style or quilt size changes price available upon inspection.


All products feature :
Hypo allergenic treatment



Down Quilts/ Duvet Rejuvenation Prices with Top Up

Single- Double- Queen- King- Super King
$173 each


Down Quilts/ Duvet Rejuvenation with Top Up & New Japara Cover


Walled & Channelled or Cassette Boxed Style
Japara Downproof 100% Cotton. White
S.B- $229 D.B- $264 Q.B- $291 K.B- $305 S.K- $374



---
Down Pillow Cleaning & Feather Pillow Cleaning
Down Pillow Cleaning Price list with New Japara Cover
Feather Pillow Cleaning Price list with New Japara Cover

A "Complete" cleaning of your filling. Recase and Top Up to original quailty.
1) Standard Size 48x70cm- $ 63
2) European Size 62x62cm- $ 79
3) King Size 50x90cm- $ 79



---
Other Down & Feather Products for Rejuvenation


Prices upon request

Pick Up / Delivery service- Melbourne Metro (Most Areas)
Common General Courier
4 Day Service- $38

Melbourne / Victorian Prices Only

Australia wide delivery service - Australian postal charges apply