Down Pillows
By Danish Eiderdowns
---
Natural , Warm and Green

Australian Accredited Member to The International Down And Feather Bureau (EST Paris 1953).
All German , Hungarian and Polish origin downs are processed by International Down & Feather Bureau Members.
Varies brands ( Incl Feather Factory ) quality products produced by Danish Eiderdowns are available from retailers & online.
Our cleaning and rejuvenation service is available Australia wide ( Click Here ).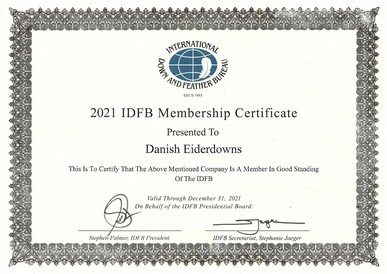 Royal familys of Europe have been using down pillows and feather pillows for generations.
We offer you our familys generation of down and feather pillow experience in the comfort of Danish Eiderdown pillows.
Your Guarantee Of Quality

Australian Member to The International Down And Feather Bureau

Down Pillow Selections-

Regular inspection visits to suppliers world wide for down selection non Chinese.
All down - including Hungarian origin and Polish origin downs are processed to JIS (Japanese Industrial Standards), EN (European Standards),
USA 2000 Standards or Australian Standards to retailers & consumers requirements.

Enviromental Protection -

Innovative updated automatic down processing system by suppliers allowing for the use of organic detergent washing.


Government Inspection Service Approval - AQIS

All fillings are free from any impuraties that can be experienced in some down products.


Down Blends & Standards

Our Down selections are tested by IDFB's ( International Down Feather Bureau )
certified member IDFL ( International Down & Feather Testing Laboratory Europe )
All pillows are filled in Australia from imported materials.

Australia - USA - Europe - Japan- Great Britan.
Note - Label laws vary due to tolerance variations from country to country.


Downproof Selection-
Cambric / Japara

Recommended for goose and duck down and feather blends. One of the most commonly used downproof fabrics. Piped and or double hemmed perimeter will give extra durability and longer life to pillows and quilts.This 133 x 100 40/40 japara downproof ideally suited for down and feather pillows.

Piped Pillow Cases
Non Piped Cases
Double Down Surround Cases

AUSTRALIAN SIZES- Standard , King(50x90) , European and Continetial.

USA / NORTH AMERICA SIZES-
20" x 26" , 20" x 30" , 20" x 36".
Also special made to order sizes.


All Down Pillow & Feather Pillow
Products feature -

Hypo Allergenic treatment
Authentic Danish Eiderdowns quality label
( Beware of Imitations )


Natural - Warm and Green